Enervent Zehnder's service team solves special situations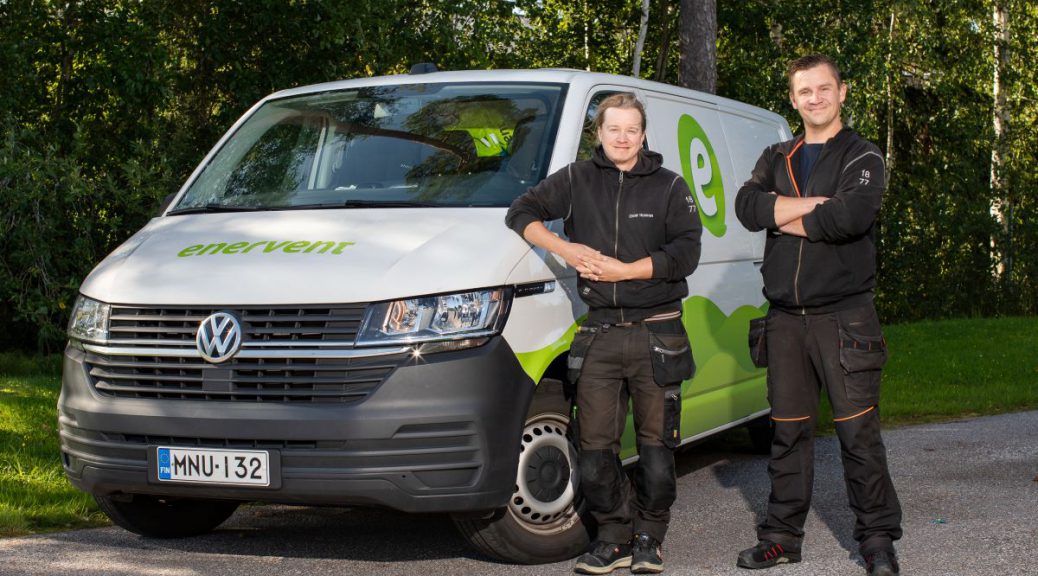 Ventilation units are quite independent. When everything works, you don't even notice their existence. However, the life cycle of the device is long and sometimes a competent service technician is needed for a home visit.
Our trusted technicians Oscar Husman and Robert Kristén handle, among other things, all special situations and are involved in training partner companies both in Finland and in other countries.
Both Oscar and Robert know Enervent's different device models inside out. Both have a full 17 years in the company's service and have accumulated a four-digit number of service gigs in Finnish homes. Rarely, if ever, does a device problem arise for which a solution cannot be found immediately.
The best are the customers and the work atmosphere
Oscar and Robert enjoy both their own tasks and Enervent. Robert confirms that no two working days are the same in a row and it is always nice to meet customers "live". Similarly, Oscar thanks the good work atmosphere. Technical back office and service technicians cooperate seamlessly when solving customer concerns.
– When it comes to ventilation, you might think that summer is the busiest time for us, but the opposite is true. After all, Enervent's ventilation units have rotating heat exchangers, which are usually not used in the summer. Maintenance needs are noticed more often in the cooler months, says Robert Kristén.
Oscar Husman reminds that in Finland the equipment is already of high quality because building technology and ventilation planning is regulated.
– My job description includes the training of partners' technicians and installers in other countries as well. Thankfully, building regulations are followed and standard parts are used in the devices in our main market the Nordic countries.
Oscar's and Robert's equipment knowledge is also needed from time to time in the warehouse when the distribution of spare parts has increased with the establishment of the online store. Spare parts for the different unit models are assembled and finished in Porvoo before shipment.
What are the most common reasons for a maintenance visit?
Ventilation units are designed for decades of use. Due to the device warranty, commissioning installation should always be done by a competent and technically skilled professional. This ensures that the device works correctly from the start.
The maintenance team reminds us that filters are the single most important maintenance operation. If you forget to replace them, it will cause the unti to malfunction before long and maintenance must be called to the scene.
In older units, individual wearing parts are also replaced. Control modification packages are a functional solution to extend the life of the unit when you don't want to replace it with a completely new one yet. Dozens of packages are available, and their content depends on the unit model.
Maintenance in all locations
In addition to its own maintenance team, Enervent Zehnder has partner networks in the Nordic countries. For example, there are about 30 experienced maintenance companies in Finland, whose representatives we regularly train. In special situations and whenever necessary, Oscar and Robert travel to help the local maintenance company.
Questions? Our technical support guides and advises: service@enervent.com.
---
18.9.2023